Leave a Legacy on the Warrior Walkway
Posted on October 11, 2017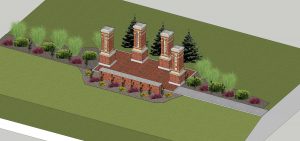 Trinity Christian School is celebrating twenty years since the opening of Trinity High School, and we invite you to celebrate with us!
Leave your legacy for the next generation by purchasing an engraved brick or paver in the Warrior Walkway as part of the Trinity Pillar Project. (Read more about the Pillar Project here.)
This is a wonderful opportunity to:
Honor your family or family member
Honor a current or future alumnus or alumna
Pay tribute to the memory of a loved one
Honor a teacher who impacted your life
Honor your graduating class
To ensure placement for the launch of the Warrior Walkway in the Spring of 2018, please submit your order to the Director of School Advancement by January 31, 2018. Bricks and pavers ordered after January 31 will be installed at a later date.