Guest post: Daniel Woods – Fall Sports Preview
Posted on August 29, 2018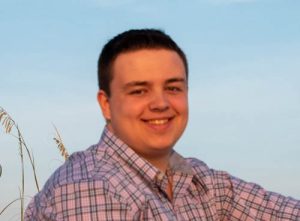 Hello everyone, my name is Daniel Woods and I am currently a senior here at Trinity. I have been attending Trinity ever since I started kindergarten so many of you may recognize me from crossing paths over the years. I'll be taking over this week for Mrs. Kelley and will be giving a little bit of a preview of Trinity's fall sports season.
The high school volleyball team is looking to have one of their most successful seasons in school history. With Coach Sarah Lasher back this season, along with a team laden with seniors, the Warriors are one of the most experienced teams in Class A this year. With the program gaining steam in the past few years, look for the Lady Warriors to put the state on notice early and often this season.
Yet again fielding a co-ed team, the Trinity soccer program comes into this season much more experienced than in past years, having graduated no players from last season's team. The Warrior side looks to build on that experience and put a high-quality team on the field led by second-year Coach Chad Laskody. Now with five seniors, they are expecting to improve considerably on last year's record.
The high school cross country team has added numbers this season with the team growing beyond its three-person roster last season. After graduating two seniors, the Warrior runners will be young but have the talent, and leader in Coach Jordan Brooks, to have some serious success in 2018.
The golf team returns several senior lettermen from the team that reached the state tournament finals in Wheeling last fall. With a core that has been part of the team's top 4 since they were freshmen, the Warriors will look to get back to the links at Oglebay this year under returning Coach Mike Baldy.
Trinity will field their first-ever middle school football team this year as the program was established in 2018. With support coming from across the secondary, the team will kick off this Thursday at Trinity. With coaches Rick Hill and Mike Teets at the helm, the Warriors are looking to get off to a good start and get the new program some momentum.
New middle school volleyball coach Brett Mathess has energized the program, and enthusiasm for the team has grown a good bit in the past few months. The Lady Warriors will go into this season with some experienced players back and have a good chance to make some noise in Monongalia County.
Former middle school cross country assistant coach John Barnett has taken the reins of the team this year and expects to take them to a new level of success in 2018. With some very accomplished runners returning this season, the young team is expected to improve upon their success last year and compete for the Mason Dixon Conference title.
One of the key themes across the board for Trinity's fall sports teams is their returning experience and the resulting expectations of success for those teams. With the addition of the new middle school football program, excitement for fall sports is at an all-time high in both the elementary and secondary schools. Look below for a little video piece I put together to hype up the school for our fall season. Thanks for reading, I hope to see some of you at the upcoming games and events.
Let's Go Warriors!