Ripple effect
Posted on February 24, 2016
Have you ever skipped a stone on a still lake? As the glass-like surface yields in response to the rock, the water ripples in widening patterns that seem to end only when they meet the shore. One little stone makes an impact on that lake.
Our students can have a great effect on the world around them. Whether in the home, church, classroom, or community, we can't underestimate how God can use them to impact their world. We strive to educate them for life in hopes that their ripples will have a positive effect into eternity.
The Trinity fourth grade class used a Slinky to mimic the rippling of sound waves in a recent science lab.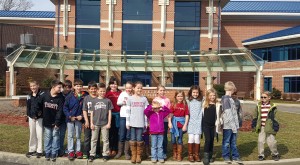 Trinity students are already impacting our community! In recognition of National Salute to Veteran Patients week (February 14-19), the third-grade class created Valentines for the veteran residents of the West Virginia Veterans Nursing Facility. They delivered them to the facility's 112 residents this past Friday.
You can read about our fifth and twelfth-grade students' recent to Mapleshire Nursing and Rehabilitation Center by visiting the Dominion Post article here.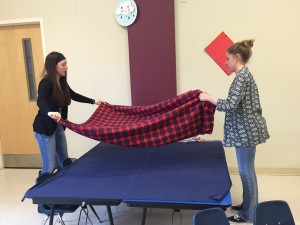 Ninth grade students measure and cut fabric for making blankets in preparation for an upcoming community outreach.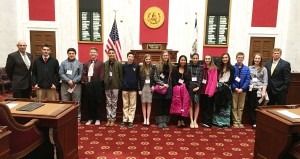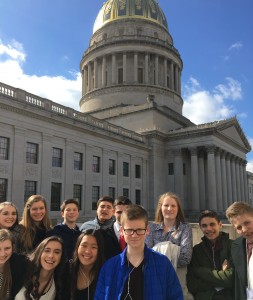 Will one of these eighth-grade students become a future policy maker? The class recently traveled to Charleston, WV, to learn about our state government as a part of the Youth in Government Seminar.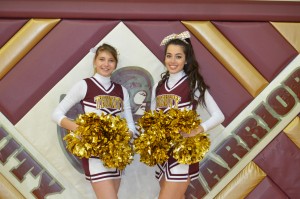 It's always bittersweet to honor the senior athletes as each sports season comes to a close. Our senior cheerleaders and boys' basketball players were recently recognized on Senior Night. The boys' team will begin post-season play next Tuesday night (March 1, 2016) when they play at 7:30 pm at Magnolia.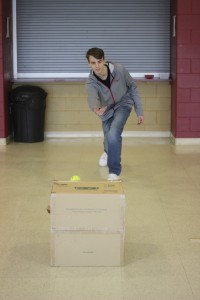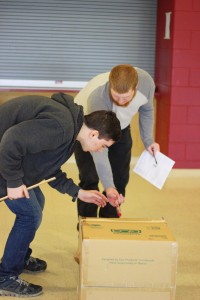 During a high school physics lab, students calculated the velocity of a thrown softball – using the concept of momentum – while other students measured the force of friction.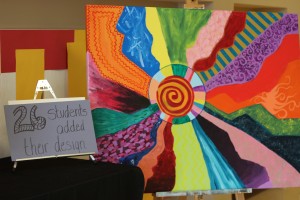 This collaborative painting will be one of many artworks included in the Silent Auction at the annual Arts Gala. Mark your calendars now for this fun event to be held on March 10 at 6:00 – 8:00 pm in the TCS foyer. Early viewing and bidding will be from 3:00 – 5:30 pm. All proceeds benefit the Fine Arts department.