Tip-off
Posted on December 7, 2017
You can tell by the sounds that it's that time of year. The squeak of the shoes pivoting on the hardwood floors. The harshness of the buzzer signaling time has passed. The bounce of the ball and the yell of the play call. The cheerleaders' shouts and the team chants.
It's basketball season and it's a big deal at Trinity Christian School. Kids from first grade all the way through twelfth get into the game. It's also a family affair. Traveling through the years together, parents of teammates find themselves becoming friends as they navigate wins and losses, long road trips and home court pride.
You don't have to be a player to join in. After all, we are all Warriors.
The Trinity athletic handbook says, "It's important to remember that in our desire to win, that we not forget the mission of TCS…" which is "to glorify God through honoring Christ, inspiring excellence, and educating for life."
Sometimes in the heat of competition, that's hard to do. We make mistakes. We fall short. We need reminding.
This past Friday we gathered in the gym, not for a game but for a concert. Songs of Christmas and scripture readings filled the room where our players and their fans will spend many hours in the coming days. The Christ-centered focus seemed a perfect way to tip-off the season.
Let's Go Warriors!
This slideshow requires JavaScript.
The band and choir Christmas concert was lovely. Please join us tomorrow night (December 8) for the Elementary Christmas Program at 7 p.m. at the Christian & Missionary Alliance Church in Suncrest.
This slideshow requires JavaScript.
The high school girls and middle school teams have already started their seasons. The high school boys travel to Linsly tonight for their season opener. The elementary teams will begin their play this Saturday. We look forward to watching our Warriors in action!
This slideshow requires JavaScript.
Creativity abounds in our classrooms!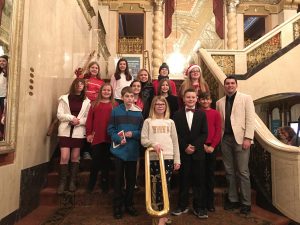 The choir traveled to Pittsburgh to sing Christmas carols in the lobby of the Benedum Center before and during the intermission of the Pittsburgh Ballet's performance of the Nutcracker.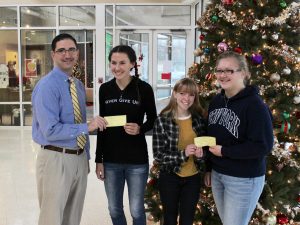 Jordan Feathers from the Cheat Lake Rotary presented scholarship money totaling $1015 for sophomores Shawnee Jenkins, Emily Kessler, and Bethany Wightman. The funds will enable the girls to attend the 2018 Hugh O'Brien Youth Leadership West Virginia Leadership Seminar at WVU from May 31 through June 3. Many thanks to the Rotary!
This slideshow requires JavaScript.
The juniors learned about money management through Mad City Money, sponsored by Fairmont Federal Credit Union. Thanks to the folks at FFCU and our volunteer merchants for teaching our students about financial responsibility.