Milestones
Posted on January 18, 2018
The smile says it all. Reagan Sharp became the second Lady Warrior this season to reach a basketball milestone: 1000 career points! She joins teammate Emily Saurborn who reached the same goal back in December.
This slideshow requires JavaScript.
A lot occurs behind the scenes in achieving such a mark. Those are the times when nobody is watching, no crowd is cheering. In athletics or school work, relationships or our spiritual walk, discipline and hard work pay dividends.
We're proud of our students' perseverance in all areas of their lives. We want to congratulate those who are recognized on the First Semester Honor Roll, posted here.
This slideshow requires JavaScript.
Making good behavioral choices earned middle school students a trip to the WVU Rec Center.
We continue to celebrate the 20-year milestone at Trinity! Join us by leaving a legacy on the Warrior Walkway with the purchase of a brick or paver! Placing your order by January 31 ensures current pricing and your inclusion for the first phase of the project. You can access order forms here.
This slideshow requires JavaScript.
With the help of technology, cyber snow days require students and staff alike to be disciplined while working from home. The hard work will pay off when we aren't required to make up the snow days at the end of the year!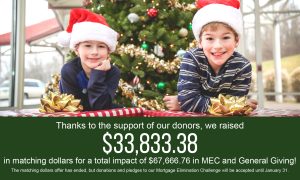 Thanks to all the folks who come alongside our school with their financial gifts! We're excited to give you an update on dollars matched for year-end and Mortgage Elimination gifts! Read more here.